The Apex inground fiberglass pool design by Aviva Pools
The APEX Collection takes the concept of the popular full-width splash pad to another level
with the marriage of a full-length bench along the right side.
This provides the luxury of a spacious resort lounge area while also having the option
of additional comfort the full length of your pool.
You can  enjoy relaxing in the shallow end or be active in the deeper end of the pool.
This is contemporary design at its highest and most beautiful level.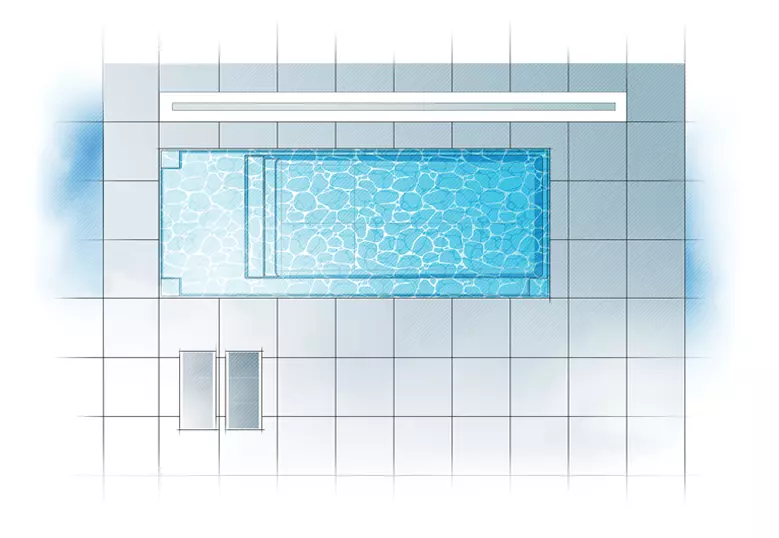 All Inclusive Features
full-width entry splash stage
full-length bench / side entry & exit
available in three lengths
The APEX is available in three lengths (30, 35 and 40 feet) with a full width of 15' 5".  It offers the beauty of a full-width splash pad
plus the added brilliance of a full-length bench along one side of the pool.  This pool combines elegance
with practicality with a style that is pure, clean and powerful.
DETAILS
The APEX provides the wonders of a full-width (15 feet) splash pad that extends a full 8 feet in depth allowing for the placement of lounge chairs and small tables.  The addition of a full-length bench along the right side offers easy access and exit from the pool's swimming area while also providing an area of rest and seating.  This truly is a multi-purpose pool that is striking in its style and proclaims how good life is.
CRAFTED
with Artisan Spirit
CRAFTED
with Artisan Spirit
Aviva pools are exclusively manufactured with premium raw materials and an artisan spirit by our team of industry experts. That superior choice is far from the industry standard and will ensure that you purchase a premium product that is also backed by all our warranty guarantees.
Measurements referenced herein are approximate and may vary due to enhancements in the manufacturing process made after publication. Measurements are from widest point on each side of outside edges and are provided as a guide. Please consult your Aviva Pools dealer for more detailed and most current information.